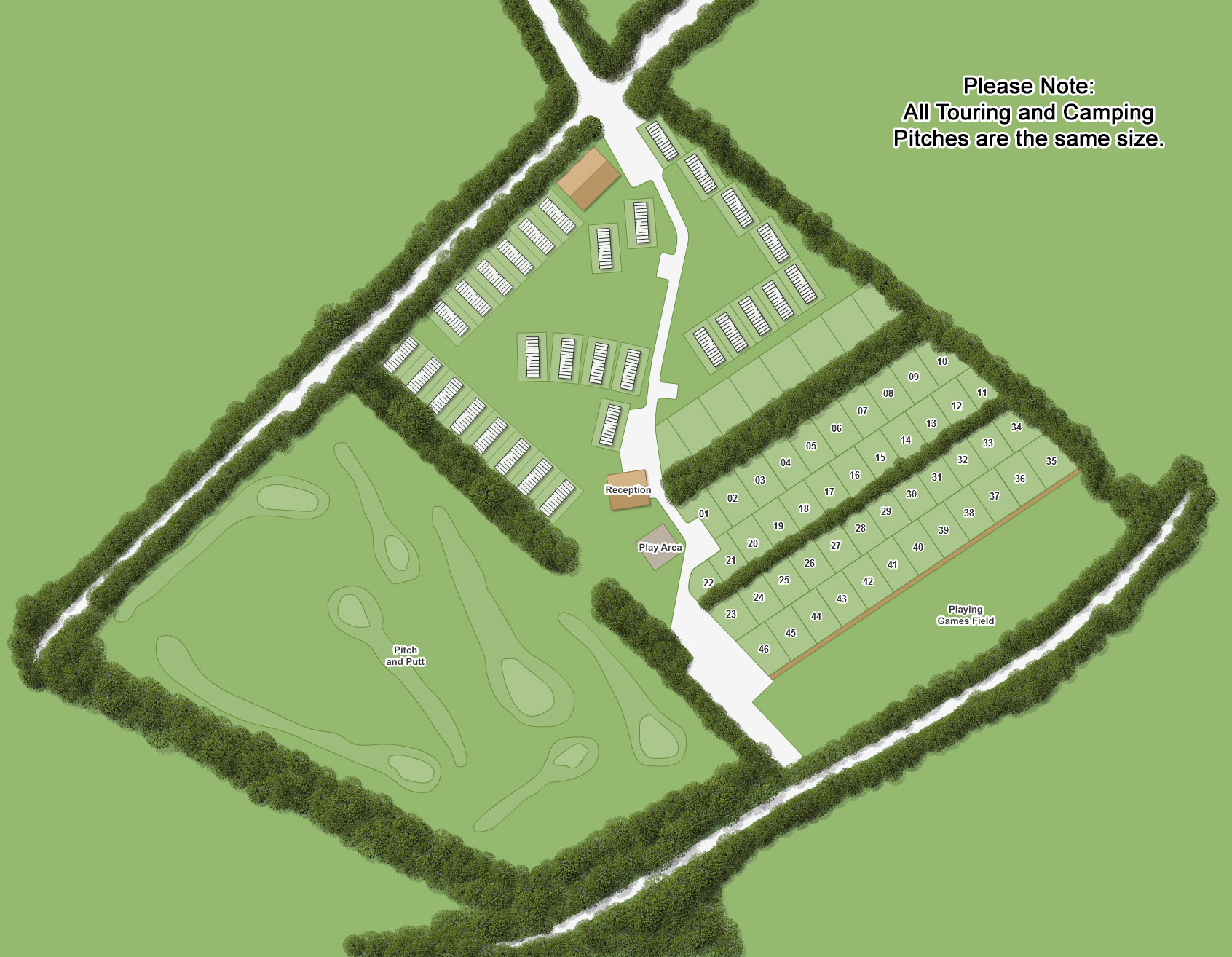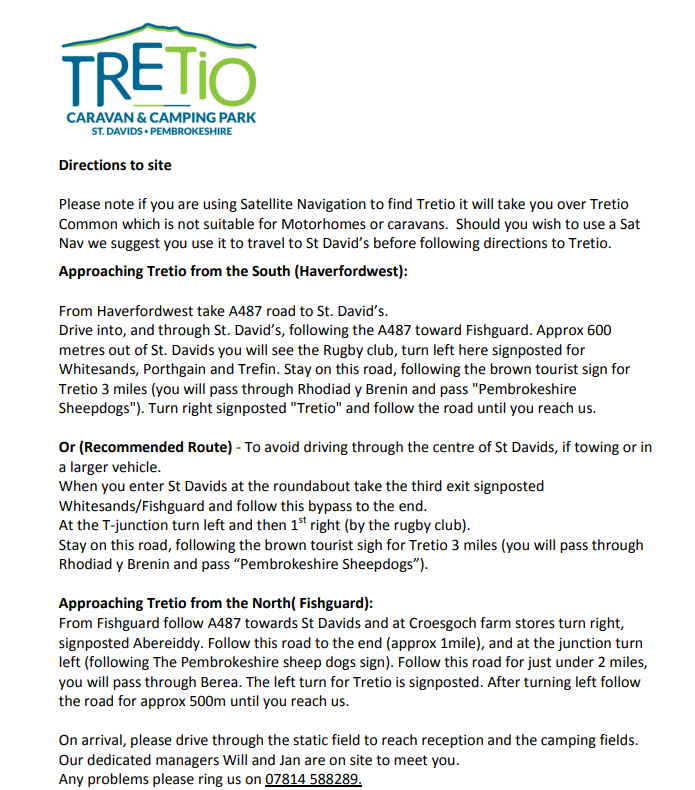 Lovely place, facilities were clean and just right for us, we wanted a quiet place. Our 2 kids 6 and 8 loved the playground, climbing wall and playing field and made friends with others. St David's was beautiful and a great supermarket shop. Coastal path walks were beautiful.

Rebecca French
Gem of a site in beautiful surroundings. The staff were amazing Di friendly and accommodating making sure that we had everything we needed.

Having taken over the site recently they are looking at some renovations and things they can add to the experience.

We will definitely be back. Thank you for a wonderful stay
We stayed for Easter weekend, and we had a lovely time. The kids were happy so we were happy! The Easter egg hunt put on for the kids was a lovely touch as well. The worst part of going in the caravan for me is having to go to use the shower, but the showers at Tretio were lovely and hot and they were spotless! We will definitely be going back.
We loved the campsite. It was very clean and tidy and the owners were lovely. We loved how quite is was and something we all need for a break. Would definitely go back and hope to sort out our next holiday soon.
what an excellent site, staff so friendly and welcoming, toilet and ea spotless
location wonderful
will stay there again
We had a lovely stay at Tretio. The wardens are very friendly, helpful and thoughtful. We will definitely go back there later in the year.
Tretio was fantastic. We stayed in a static van and It was clean as can be. The general park facilities were clean and the place is really well thought out. Nothing would be too much trouble for your hosts Jan and Will. The park is an ideal place if you're looking for a non commercial site.
We have been visiting St Davids area for over 50 years and return to the peace and wonderful coast as often as we are able. We now have a camper van which means we can roam when we are able' Tretio is one of the best sites we have stayed on and will continue to use it when ever we are in the area. Staff are friendly and the facilities are spotless.
Clean static caravan, nice location and area
We stayed two nights at tretio park, can't say anything bad, staff was overly helpful and facilities were super clean!
Fabulous weekend at Tretio. We were all made to feel very welcome, the wardens could not do enough for us. Jan came round every morning to say hello and check everything was ok. We will be back again next year.
We were warmly welcomed by Jan when we arrived. The pitch selection whilst booking online was brilliant and pitches were great, the site was clean and very friendly. our children played happily and made friends easily (it felt like something out of the famous five to be honest) an idyllic setting for one of our most favourite camping trips.
Lovely clean site , very helpful and friendly staff.deffinately stay here again . Close to whitesands blue flag beach and st David's. Had a Brilliant half day out with Celtic quest coasteering at abberiddi and blue lagoon whilst staying here
We had a lovely stay at Tretio. The wardens are very friendly, helpful and thoughtful. We will definitely go back there later in the year.
We were very happy with our experience at Tretio. The caretakers went above what was expected in regards to helping with bus details into town. We would definitely stay here again.
This is a quiet and safe site. Very child friendly and great for couples as well. Amazing walks around the area. Highly recommend it and we will definitely be going back
Small but tidy and friendly. Slight incline for campers. Staff very helpful when needed.
Great people very helpful and went over and above knowing we had a long way to come to get to them and made it possible to park up even after midnight .. overall fantastic place to stay and omg the showers are fantastic
Enjoyed every moment. Tretio is a lovely site with the added bonus of being dog friendly. Just one dog friendly static van available sadly as this is an ideal part of the world for dog owning folk to enjoy at any time of year. The welcome from the staff was fantastic and nothing was too much trouble, this made us feel comfortable and relaxed from the second we arrived. Everything was neat, bright and spotlessly clean. We enjoyed our stay and look forward to a return visit to see some more of what this area has to offer.
Couldn't get the stars to work on my phone but would have put 5s for everything. Beautiful well appointed site, immaculately maintained. Warden couldn't have been more helpful. We loved it and we'll be back.
Couldn't really fault anything, great location, great owners. Highly recommended
Love this site and its owners. Always made to feel very welcome.
This was our 4th visit to tretio in 6 years. Nothing has really changed except management which is still very good.
The addition of a visiting pizza oven van was nice.
Only negative is the 10am vacate time on departure day.
Even on a sunny day this is unrealistic. We are seasoned campers and very organised, and it was still nearer 12 leaving.
Would recommend and have in the past.
Great site, with clean facilities and friendly staff. Loved the music night. Can't fault the park at all. The only reason we wouldn't stay again is because it was quite remote. Due to the bad weather we had, we visited a lot of attractions I.e. folly farm to keep the children occupied as they couldn't play outside, and this meant an hours drive most days.
Lovely site nice friendly wardens who make you feel very welcome and are very helpful. We will be going back again next year for the third time.
All the basic facilities were available and alway in a ready to use state. Staff were really friendly and knowledgeable of the area. They pointed us a a number of good beaches which were child friendly.
Couldn't really fault anything, great location, great owners. Highly recommended
Clean well maintained, lovely views and the staff were really friendly
Site is located in an amazing part of Pembrokeshire with great beaches very near by, the superb small city of st David's is just a couple of miles down the road where there is plenty of shops, pubs, restaurants and boat trips etc. The staff on the campsite were absolutely brilliant very friendly and nothing was too much bother for them I would definitely recommend a stay here to anyone from young or elderly couples to family's
Lovely site good position to visit local highlights,staff excellent very helpful. Facilities basic but clean .
Brilliant campsite, superb location, friendly owners, great facilities - can't go wrong.
Excellent for kids (pitch and putt/climbing wall/football area and climbing frame and slide) and pets. Managers Jan and Will really friendly and very helpful with regards to the area. The site and facilities are very good, and the music entertainment was good too. The Blue Lagoon is 5 minutes away and coast-steering takes place there. The Sloop and The Shed are in a lovely setting.
Tretio campsite was wonderful! Jan & Will were so friendly and helpful, going above and beyond to assist us. The boys (11+16yrs) loved the pitch + putt, plus the open playing field for kites, football etc. Noise levels were zero after 11pm which was impressive! Free showers, and considering the number of people there, no queuing either. Nice size pitch and others camping there very welcoming too.
Lovely campsite, fantastic location with really nice, helpful staff

Felt safe and secure with the children as they had a separate field to play in that was enclosed.
Stayed here again for Borderfest 2018. Great location, staff go out of their way for you, super friendly site.
Amazing quality and amazing people around. Would definitely recommend!
Excellent stay at Tretio near St David's, site would benefit from addition water supply points and drainage in the fields for tourers, this would make it a 5 star site. Lovely location with extremely friendly and helpful staff.
We stayed for a weekend in June and we all very much enjoyed. The campsite was very clean and we stayed right by the shower block which was easy with children. The site was a little difficult to find as our satnav took us somewhere different.
In terms of the childrens park area,it does need updating, however children enjoye the climbing frame and football field.
The campsite was very quiet and with only three other tents on site.
Would come back and stay. Staff were friendly and very helpful x
We stayed at the campsite with our young children. We had a fabulous time, with great beaches in the surrounding area.

The on-site laundry, fridge and freezer and kettle were an unexpected bonus for our holiday and made such a difference!

Loved this site, looking forward to visiting again.
Good all round site. Good rules for noise in the evening. Good play park for up to about 12 yrs but not much for the older children. However, a good football/play pitch for children to play. Most children do mix so it can be reasonably sociable.
My partner and I were very happy with this campsite. While we were worried on the way out there about how isolated it seemed to be it was more than close enough to all the places we wanted to go and the campsite itself had lots of activities.
The facilities were all very clean and the staff were great. The atmosphere was really friendly too and we would definitely stay again!
Brilliant holiday, lovely site and immaculate static van
We stayed at Tretio for a week in 23 Moo Meadow. The caravan was spacious, very clean and staff welcoming. Everything you could possibly need was in the caravan and more. Very informative.
Had a lovely time camping at Tretio camp site where you don't feel over crowded by other campers. Very clean and good facilities which were not over run, hot water anytime of the day with good water pressure. Felt safe with the kids playing at the park and only a short drive to St Davids where you can get a great ice cream !

Would definitely come back here again !
This site was just perfect in every way and I can't recommend it enough. We absolutely loved the football field, pitch and putt and park area. The live entertainment was amazing. Jan and Will could not do enough for us, especially in the heavy winds. They are the most perfect park wardens.
The site was immaculately kept and we will certainly be back next year.
I stayed for a week with my family (partner + 2 children) and we had a lovely week. The caravan was immaculate and although the electricity tripped out regularly when we used the kettle, it was easy to resolve and wasn't a problem. The site is lovely and our children loved playing golf on the field. The weather wasn't kind to us but we used the veranda and BBQ when we could. The site owners were welcoming and helpful, present throughout our week at tretio.
Would highly recommend Tretio (and St. David's) to anyone!
We all noticed how friendly other campers were , people would be ready to chat about their stay , would smile in passing . The staff are extremely helpful and walk around asking if u had everything you needed . If not they were there to help .
Gem of a site in beautiful surroundings. The staff were amazing Di friendly and accommodating making sure that we had everything we needed.

Having taken over the site recently they are looking at some renovations and things they can add to the experience.

We will definitely be back. Thank you for a wonderful stay
Brilliant facilities, caravans and tents, playground, big pitches, playing field, golf area is a great fun!
Most importantly the friendliest and most helpful staff!
We have now decided to make this site our Pembrokeshire base.
We loved it so much we booked for next year before we left. Our nine year old loved playing with the other children on the campsite. This was helped by the great facilities for children onsite.
The campsite manager was lovely and very helpful.
The laundry room/kitchen was very useful. No queuing for showers or washing up.
All clean and cared for.
We are really glad we found this site.
I've visited many many sites in my time and was open minded about visiting Tretio. It had great Facebook reviews so I thought I'd take my touring caravan down to Pembrokeshire.
Well, what a find! Just a few miles outside the city of St David's lies one of the most tranquil places ivecever visited. The site managers Will & Jan were very welcoming and keen to point outvtye best of the local places to visit such as Porth Gain and lots of others.
I visited outside school holidays so there were no children around but the facilities available to them would keep them off their devices for hours.
The site is immaculate and plain to see that Will & Jan take pride in what they do. Top marks to them.
If you do need to stay in touch with the outside world the Wi-Fi provided excellent coverage.
The acid test ... would I go back. Yes of course and am already looking forward to 2019.
Great site convenient for walking the coast path and close to St David's. Lovely wardens, friendly welcome with lots of local information. Quiet when we stayed towards the end of the season (October) but would be quite busy in the summer. Good, adequate facilities but there are plans to refurbish them over the winter.
Right from the first phone all with Jan we knew this was the right place to holiday. Friendly knowledge of the local area was fabulous,nothing to much trouble. Caravan was spotless cleanest we have ever stayed in. Thanks to Jan and Will for a brilliant holiday.
This was our second visit, we were really pleased to return. Jan and Will (managers) are great and very friendly. Site is nice and quiet, lots of space, well maintained. Easy access to surrounding beaches (which are lovely) and St Davids.
This was our second visit, we were really pleased to return. Jan and Will (managers) are great and very friendly. Site is nice and quiet, lots of space, well maintained. Easy access to surrounding beaches (which are lovely) and St Davids.
Loved the size of the site and the managers were very pleased to help in anyway. We loved staying here and had some of the best nights sleep. Our daughter made friends and really enjoyed herself. We would recommend this place to anyone.
Lovely stay with friends and doggos.
The park is well maintained and very clean. Jan & Will, the couple who run it are wonderful hosts and are most helpful.
Beautiful little site , my teenage children had enough to do whilst us adults got set up . Friendly and approachable owners . Excellent instructions of where to pitch-up without wondering around looking for someone. Straight forward and very satisfactory . Will definitely recommend.
A wonderful site that provides excellent pitches and wash facilities. We love the fact that it's small & personal. Owners are very friendly and will do their best to help if needed. Pitch sizes are excellent. We visit every year.
Once we found it! We went in two separate cars, one of us found it straight away the other got lost, so be sure to follow the specific directions on the website! Site was fantastic, we went during covid (post lockdown when there were still strict measures in place), so didn't have people in the pitch's directly next to us, might have been a little close and crowded if we had but it was great. Facilities were fab, hot showers and clean toilets, great beaches and towns locally, gorgeous scenery, walks and sunsets and a great theme park not too far away with kennels so we could leave the dogs there safely for the day. Loved Wales, loved Tretio I'm sure we'll be back at some point. X
We had a brilliant tent pitch which was a good size and perfect location for the children to play within supervision of the play area and playing field. The facilities were clean and tidy and the whole campsite was extremely well maintained.
We had a lovely couple of days at Tretio recently. It is a small but perfectly formed campsite, 2 fields for tents/campers with plenty of space for the kids to play in a separate field. There is also a free pitch and putt course which is an added bonus. It is very peaceful. Whitesands beach for surfing is a 10 minute drive away and we also walked from the site to the Blue Lagoon which took us about 45mins.
My only issue was that we couldn't access the wifi. Not a problem for me personally, but obviously the end of the world for my 2 teenage sons!!
I am happy to recommend this campsite and I am looking forward to going there again.
The Pembrokeshire weather was dramatic and changed rapidly, but Tretio was its usual consistent high quality. From start to finish, the organisation and service provided by Jan and Will were exemplary. Where else would you have a plate of Welsh cakes on arrival! Our McLaren caravan was clean and comfortable, and fully compliant with Covid restrictions. A peaceful rural site, but close to sea and visitor attractions.
We stayed with our 2 young kids and they absolutely loved it. Small, safe, friendly. The play field, climbing frame and golf course were great onsite entertainment.
We explored Abereiddy, Whitesands and Newgale beaches (short drive away).
Would definitely go back and recommend!
Despite the storm which came through at night, we had an excellent stay - many thanks.
Couldn't fault anything, place was beautiful, scenery stunning, staff friendly and helpful, kids loved it, close to numerous beaches, really enjoyed our stay here. Will definitely be returning next year.
Excellent camping park, really recommend it because the staff are really helpful and friendly and it's located in a beautiful part of West Wales. Facilities are terrific too.
We were looking for a pace to stay for the night and really hadn't thought about planning ahead , this campsite was so easy to book on line , we had been given our pitch number and just turned up , lovely grounds with pitch & putt which we took advantage off .
Showers very clean and welcoming hot water
Laundry facilities excellent and felt very comfortable leaving my computer charging in the laundry room as I walked the dog
Would definitely return to this site
This is our second time staying at Tretio and it certainly didn't disappoint. It felt like we had never been away. The site isn't over crowded and is very peaceful. The cleanliness of Tretio is exemplory. I cant recommend it enough.
top class ,very helpful staff,will and jan were very helpful .thanks len and jayne newport area
Lovely campsite close to beautiful beaches and the Coastal Path. Facilities excellent including laundry room with fridge and freezer, and excellent disabled wash/shower room for my husband in a wheelchair. Friendly staff, will definitely come again.
Low season but in an area of high demand due to the Covid crisis. Not too close to the beach so fortunately not crowded so plenty of space for social distancing. Good arrangements for sanitising hands around the site and using toilet facilities.

The one drawback for motorhome users is that there is no drive-over grey waste disposal drain, you would need to have a very long hose or use a bucket.
Great short break. Limited numbers meant that COVID-19 precautions were well managed. We felt safe at the camp site.
We had a lovely long weekend at Tretio, after friends recommended it as a family-friendly site.
Tretio doesnt have many entertainment facilities however if you looking for a quiet flat site with beautiful views its got that in abundance , washing and toilets very clean but a bit dated and small otherwise lovely location and easy to get to
Great site with very helpful and friendly owners. Facilities clean, lots of hand sanitizer available.
Great for kids. Pitch and putt great for adults too!
A well kept clean site. showers were nice and hot, toilets maitland and kept clean. friendly site staff offering advice on local area.
Visited during the Covid pandemic. Site was spacious and plots allocated at good distances. Facilities open which was good. Just needed the putting greens trimmed a little bit!!
Fantastic place, very quiet. Very impressed with the cleanliness and hand sanitizer everywhere. Close to St Davids and the blue lagoon. Definitely would go back. Highly recommended.
We loved how friendly the feel was of the campsite and how quiet and relaxed it felt even though it was pretty full. Such a great dog friendly place too. Great access with the footpath leading out to the country roads which we used to run to the blue lagoon. My husband thought the pitch and putt was an added bonus too
Wish we stayed for longer
Thanks
This was our first campervan experience. We stayed at 3 places including Tretio. It's simple setup made things very easy for us.
Appreciated the call back, when I had rang to say we would be late arriving. Jan was very helpful.
Only suggestion would be on shower cubicles - very basic, and could do with an upgrade - drainage / and lack of storage space for clothes whilst showering.
Had a lovely stay at Tretio campsite in early September. Very clean and tidy site and facilities. Plenty of really hot water for washing up and showers which we really appreciated after surfing at Whitesands. Good shelter belt of trees kept the strong winds off our tent which is one of the reasons we choose the campsite over other local sites much closer to the coast.
Only one small thing would have made the stay perfect and that would have been a dedicated washing area for wetsuits.
We really had a great stay and can recommend Tretio 100%. We hope to return in the spring of 2021.
Well kept and well set out pitches. Plenty of hand sanitizer available and lovely hot water for dishes. Near coastal path with pleasant countryside scenery. Only downside was the occasional sound of gunshots which we thought was a local farmer.
Beautiful views. Pure peace and quiet as the only sounds were from birds and cows. Perfect for star gazing as there is no light pollution and we had excellent views of the Milky Way. Also great for bird watching with several birds of prey around.
We used bikes for getting around and it was only a 15 min cycle to the Cathedral of St David's the only real steep hill at St David's itself where it was downhill.
Again highly recommend site.
We came for a night to be near St Davids and stayed for 4. Easy walk to costal path and fantastic views with seals on the shoreline. Immaculate grounds and lovely pitch and putt field. Wardens really helpful and lots of hand sanitizer available to use before touching anything communal (COVID 19 pandemic). Was good that showers were individually accessed from own outside door. Great job and thank you.
The toilet and showers were clean but compared to other campsite facilities are very tired and need a re think.
Lovely site. The golf course was great. We enjoyed a lovely afternoon playing the 9 holes. Toilets were spotless. Felt safe during COVID. Hand sanitisers everywhere. Pitches were well kept and very spacious. This is the first site I've stayed on where there are actually bins for dog waste. Owners were friendly. Excellent location. Very close to St David's and the beaches. Visited Whitesands, Abereiddy and Llyfn. Also went to Porthgain. There's a cute garden centre/ coffee shop 2 mins away. We would definitely visit again. Thank you for a great stay.
Will and Jan the site managers were very helpful and friendly, we stayed in one of the permanent site caravans, which was excellent, very clean, spacious, and met all our needs, we really enjoyed our stay.
We have stayed at Tretio many times over the past nine years and each visit has never failed to impress.
We were unsure if we'd make it this year due to Covid-19, but as we were blessed with fine weather at the beginning of September We decided to book a last minute weekend away and were so glad we did!
The site is always well maintained with excellent facilities. It is a great base to explore St David's and the surrounding areas.
We look forward to returning next year.
On our first visit, we found it relatively easy to find, tho there is a few single track lanes which weren't the easiest to navigate, however as we found out later there is a larger road you can take (so staying on the main road rather than following the satnav is best)
When we arrived it was easy to find where our pitch and the grass is super lush green and its great! The golf was great to play for free too, and the showers and toilets where kept nicely and the water was warm (what more do u need)
As for the surrounding locations its stunning! The blue lagoon is a must visit as its only 10 minutes from the camp site and the water is so blue and pretty!
The lady who i booked with and who checked on us once we arrived was super nice and easy to talk to. Its a great campsite and I highly suggest it!
Very helpful owners. Kind and thoughtful.
Gave us directions to the coastal cliff path which was lovely and we saw Seals and pups basking on a beach.
The toilets, showers, wash up kitchen and laundry area were well equipped and maintained. Covid systems in place and well placed.
The pitches were large and the Wi-Fi was a real breaker! All in all, a great visit and great value for money!
Stayed on site as many friends have highly recommended & only heard good comments.
Booking was easy & on arrival site mangers could more gave been more friendly & helpful.
Site almost empty so fantastic views in all directions & location is perfect for local sightseeing & coastal paths.
Impressed with toilets.showers & washing facilities on offer & very clean.
Will definitely be back & also interested in Static hire due to location.
You will not be disappointed if you find this little gem.
A lovely, quiet site with grass pitches which in the main are fairly level. A real 'in the countryside' feel to the camp, with nice touches (great play park for children, free pitch and putt etc.). Very well kept, clean, tidy and spacious with very helpful and friendly owners. Good location for access to the Pembroke Coast Path, St David's (short drive away) and all the lovely beaches and coves in the area. An area full of wildlife and birds - remember your binoculars!
Tretio has never failed to deliver in the many years we have been visiting. The site is always clean and well maintained and the managers, Jan and Will are friendly and helpful. We normally camp, often with friends, and that works really well but this time we booked a static as it was October. This was a great choice and we had a wonderful pre Wales covid firebreak holiday.
The site is well located for easy access to the coast path, a short drive (or longer walk) to beaches and St Davids.
I should also add the covid precautions in place on site were very good with lots of hand sanitiser points around.
We will return!
We stayed for a week in a rental static caravan. The van was spotlessly clean and tidy on our arrival and Covid measures were in place. Jan and Will, the site managers are friendly and helpful and the site is kept immaculate. We know the area well and spent our time walking and swimming. The site gives easy access to good walking routes, both inland and along the coast path, and to nearby beaches at Whitesands and Traeth Llyn. Easy to get to St Davids for grocery and other shopping.
My wife and I booked this caravan site as a quiet getaway in November , having being recommended by family who had previously camped here , caravan was open on arrival ,heating on and a lovely offering of welshcakes tea coffee and milk left in fridge . Caravan was spotlessly clean and looked after , great sleep and relaxing break , will definitely be returning but for a week next time
Wanted to visit the area with my partner and came across Tretio on a search engine. Very pleased we decided to book here.
Location great for Blue Lagoon etc.
Showers were clean and a warm welcome after getting caught in an unexpected downfall at Abereiddy.
Pitch was ample size.
We booked at a very quiet time (only 1 other tent present) so very peaceful stay.
Would certainly book again at this site.